I know that I have been absent the past few months but I am back with lots to celebrate!! First
is that the reason for my absence - being in school full time this summer - is done! I have finished my Nursing Asssistant training and things are slowly returning back to normal. Well, as normal as it gets running around after three little monkeys (umm, I mean princesses!).
The second thing to celebrate is the reason for the post today - it is Haynay's Birthday!!! Her ScrapMatters birthday that is: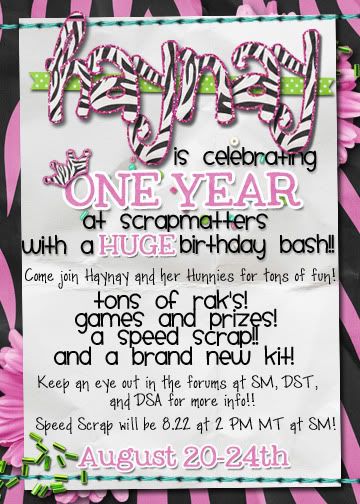 There are going to be so many give-aways and games that you wont even believe it!!! When Haynay asked us what we wanted to give away for her birthday celebration I just knew that I wanted to give away one of her template packs. Y'all know how much I love templates right? So do you want to get one of Haynay's template packs for free??? All you have to do is show me how much you love templates too but picking up my freebie template below (image is linked) and creating a layout using one of Haynay's products. There are so many awesome ones to choose from - you can click
here
to check them all out in her shop. The freebie template below includes a psd file, png files AND a page file (for you Storybook users!) so everyone can play along - no excuses!
Once you have created your layout using the freebie template and one of Haynay's kits leave me a comment with a link to your layout and on Monday August 24th I will randomly pick a winner!
Download
HERE
Can't wait to see all your layouts and don't forget to keep your eyes peeled at ScrapMatters, DST and DSA for more fun, games and giveaways by the rest of the Haynay CT!